From the Collection

John Joeseph Enneking
Springtime
Oil on Canvas
37" x 24"
1901



John Joeseph Enneking was pivotal in introducing Impressionism to artists throughout New York and New England as he was the first American who returned to the United States an impressionist after having painted alongside Claude Monet in Paris. He painted during a period when Sargent, Tarbell, Benson, DeCamp, Hunt, Reid, Bunker, Paxton and the Hales were painting in Boston, Enneking was revered as the city's premiere landscapist and his work celebrated and revered.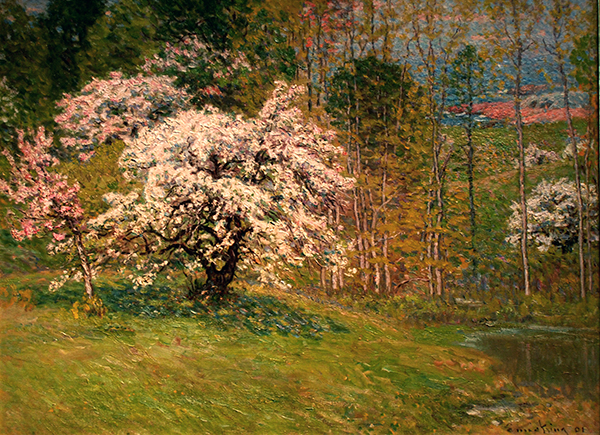 In 1886, The Boston Journal quoted Enneking's philosophy: "I'm a disciple of the esthetic, the beautiful….Study nature, nature is truth." In 1903 Wisdom Monthly called Enneking "the great landscape painter;" the Dictionary of American Biography said he was "the interpreter of New England" and Brush & Pencil wrote that Enneking's paintings glow, illuminate in rich hues and warm atmospheres and have "spontaneity" and "impulse."

Enneking was considered a conservation "activist." He wanted to preserve nature, not destroy it. Because he felt so strong about ecological issues, he was elected Boston's Park Commissioner so that he could protect the city's park environments.